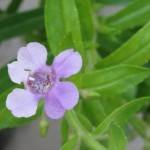 The first thing that I ever do when I visit any nursery is to look for some unusual and lesser known flowers. I always choose plants with smaller flowers than the one with larger blooms. Angelonia is one such plant with small flowers that I had found recently in a nursery nearby. This Angelonia plant is a group of stems with dark green leaves, growing upright to a height of about 1 to 2 feet. Small flowers are found on tip of these spikes. There were three colors Pink, Purple & Double color (Purple and White) and as usual I picked up all three, as these were so pretty to leave any behind. On the closer look at the individual flower, it resembles a Snapdragon flower and also because it is a summer flowering plant, hence the common name of "Summer Snapdragon".
By looking at the slender stems, I thought of keeping these in my balcony, which receives less sunlight. I have observed its growth for about a week. To my surprise, the plants didn't do well. I could hardly find any flowers on these which is unlikely of this Angelonias. Then I did a little search on the net and every link I visited stated clearly that these are sun-loving plants. Funny isn't it!
So I have shifted all the three plants to my terrace that has no shade at all, also which receives a lot of direct sunlight and extreme heat. Within a few days of shifting, I spotted a lot of fresh growths and many new stems near the existing older ones. Few more days after that they started to bloom like crazy. Day after day there are a lot of new buds and new flowers! From my experience, not only they need full sun, they require frequent watering cycles.  I am doing it once in two days at the least.
Its been three months since I bought these plants, until today they never ever go tired of blooming. If you ever wish to add colors to your summer garden, this is the plant… which is also fast growing and are very easy to care for.
These Angelonias can be grown in borders or in containers. I am keeping them on medium size pots and they are doing very well.
Common Names: Summer Snapdragon, Angelonia, Serena Angelonia
Botanical Name: Angelonia angustifolia
Family: Scrophulariaceae (figwort Family)