Many of you might have seen or heard about Nellikai Koodai which is one of the many knots used in the plastic wire baskets. In this post, I am going to explain how to make an individual Nellikai knot using the plastic wires. Lets see how a Nellikai Knot looks like when it is completed.
Materials Required:
Plastic Wire of length 1 feet or less  – 3 Nos and 3 different colors for demonstration purpose. Here I have taken cream, Pink and yellow color wires.
Instructions:
1. Fold the wires in half to form a loop. Hold two loops one in each hand. Here cream on the left and pink on the right.
2. Insert the cream wire inside the pink look and hold both the wires in one hand.
3. Now bring the yellow loop over these two cream and pink wires. Refer the figure. Hold the loops tightly.
4. Now insert the back wire of yellow wire into first cream loop and then to pink loop by holding the all the wires tightly in position. Tighten this yellow wire a bit to form a loop as in the second figure.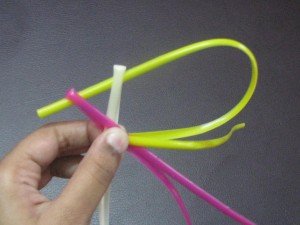 5. Take the back wire of the pink wire; Insert it into yellow first and then to the cream wire loops.
6. Now take back of the cream wire; Insert it into pink wire first and then to the yellow wire loops.
7. That is all…Now tighten the knot by pulling all the wire ends tightly.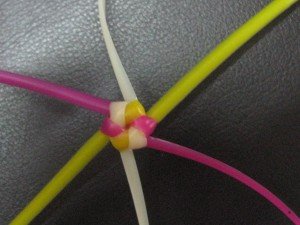 This knot reminds me of a small pinwheel…don't you think?
I am trying to make a basket out of this Nellikai knots … I will post the instructions once when it is ready…