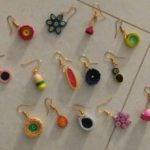 Most kids today are like perfect all-rounders excelling in whatever they do whether it is studying or gaming or crafting. It is so amazing to see them capture even a small thing and analyzing it on their own way. Sometimes it makes us wonder how they get time to do all the extra-curricular activities in spite of their tight schedule! Today's post is about one such talented girl of 10 years old,  Anaida Rithika from Chennai. She makes this lovely hook earrings using paper quilling technique. As we all know, paper quilling is an art of rolling thin strips of paper (special paper called quilling paper) around a pen like tool and making shapes. With this method, we can make a lot of things like jewelry, wall hangings, greeting cards etc.
Making jewelry mainly quilled earrings, are becoming more and more popular among the ladies  and hobbyists nowadays. Since the jewelry made from these are very light weight, so they make it perfect for the kids to wear. Even if they lose their earrings somehow, you can always go back and make some more.
As simple as it sounds, at the same time, it requires a lot of patience and practice to make a perfect shape. It seems to me that, Anaida has done a pretty good job in making beautiful earrings out of this quilling papers. You can see some of her works in the following picture…
And here she is with her quilled earrings…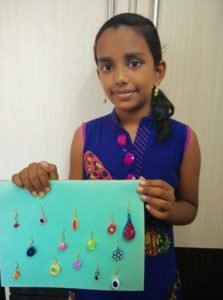 Cute little earrings aren't they…see how these looks nice on her! I wish her all the success and good luck for her bright future!
Note: If you are new to this quilling methods, I suggest you refer to my basic tutorials on quilling like Paper Quilling: Flowers – Part 1 and Paper Quilling: Dolphin – Part 2.